It has been 10 years since I have been working with NGO in developing countries without knowing anything about the world and while feeling the ackwardness of joining the society. Building brige and digging wells in wild land withoud gas, electricity and water and cleaning up mountains of garbage with help of everyone of the villagers had help me realize the importance of changing one's mindset/thinking.
The greatest thing was being appreciated by the villagers.
As a person being born and raised in Japan where one's lives comfortably, I felt that it is my duty to contribute to people living in the developing country.
As a country which had experienced the success and failure of being a developed country, we have all the privilege and wisdom to give to the developing country in their difficulties, environment crisis and dilemma of modernization and tradition.
As a company, Assion would contribute to the developing countries by sharing our know-hows to build a continous and properous world. We would create crew, service and corporation that thrive around the world.
We cherish the word "Asian" and "Passion" and our company's name has taken meaning from these words.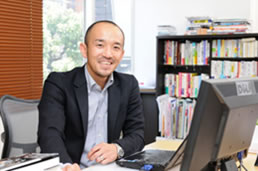 CEO Yohei Kinoshita
Apr 2002    Joined Itochu Corporation, Energy Trade Dept.
Apr 2004 Joined Mobile Factory, Inc.
Jun 2005 Appointed Board of Directors of Mobile Factory, Inc.
Dec 2008 Leaves Mobile Factory, Inc. as terms for BOD ends.
Feb 2009 Found Assion, Inc. and become company's CEO.