We provide the assistance to enter Chinese market.
When we tried to start EC business in China, we faced lots of problems.
We spend few million yen and lots of efforts on making Website, SEO, PPC advertisement, translation, call center, manage stock and warehouses etc…
Assion learned from those experiences, so with our assistance you can spend minimum initial establishment.
Service line
Make contracts with LIkeface, China, and support your company's cosmetics, market research, sales promotion, and apply for approval in Chinese market.
・Sales support (Japanese cosmetics in China).
・Market research (group interview, questionnaire survey etc…)
・Sale products on Likeface
・Marketing and promotion strategy in China
Charges
Including market research/ sales supporting/ marketing Total is ¥500,000~
Including
・Customs service
・Stock management
・Group interviews
・Aggregate of questionnaire
・Reports preparation
・Translation
・Shipping stuffs
・Customer service
・Sales promotion/ promotion cost
・Service flow


What's Likeface? 
Cosmetic portal developing EC site in China. They have 350,000 members who are ages between 18~38 women. Likeface was selected of reliable B2C site in 2010.
Assion's service superiority
ASSION

M社

R社

 Repayment Warranty

You can claim your money back
if you are not satisfied.

ー

ー

Cost

*Sample research

*Group interview

¥2,000,000~¥4,000,000
×

◯

◯

◯

×

◯

×

×

×

Web promotion assistance in China

×

×

Distribution support in China

×

×

×

×
・Frequently Questions
Does our company's products match Chinese market?
           -You can reduce risks through group interview and sample test which provided by Assion!
Our company doesn't have any reliable information on  Chinese cosmetic market.
           -We have member's sex, age, job and salary information, therefore, can do consumers'              research by analyze all segment information.
Does our company has to spend lots of money on stock management  and international shipping?
          -Assion has trustworthy distribution and local warehouse partners in China.
Our company doesn't  know the effective sales promotion in China.
          -Assion has many years experience in marketing strategy in Chinese market including              promotion on magazine or Web advertisement.
Our company doesn't have customer supporter who can speak Chinese.
          -Assion has professional Chinese stuffs who will be responsible to provide all your company              needs in Chinese market.
・The Syukan Syogyo (05/ Mar/ 2012)
Assion's Chinese market consulting services was reported by Thee Syukan Syogyo in 2012.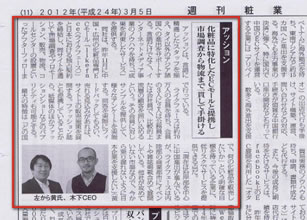 ・Daily Diamond (11/Feb/2012)
CEO Kinoshita was reported as a "entrepreneur" in Chinese cosmetic service by Daily Diamond.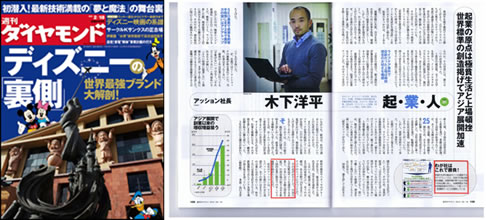 ・CnetJapan (02/Nov /2011)
Assion has monopoly cooperation with Chinese major cosmetic portal site Likeface.